Now Available on Amazon
The following content contains affiliate links
The study is all about hospitality + community.

Women are created to live in community. So often though, we think we don't have community. Or we think that we don't need community. Or we think that the community we know and love is all he wants for us. But God actually has a lot to say about women gathering together in friendship, and it will take us a lifetime to live out his vision for us.
A daily Scripture study with room to journal and a plethora of helpful tips and tools, this beautifully designed book explores God's plan for his people together. There are inspiring reflections on the many facets of authentic Christian community, opportunities to apply lessons to your own life, and tangible tools for extending gracious hospitality that opens the door to meaningful relationships. This is a journal that asks you to thoughtfully consider your own world and to see how he might be calling you to be his hands and feet in it. It is an invitation to live a life of abundance that is better for being together.
Hosanna is a Lenten devotional journal that is a deep and wide study of the Gospel of Matthew. The team at Take Up and Read delivers another gorgeous book that includes scripture, devotional essays, room to journal, and stunning art. Each weekday, readers will find a simple prompt for journaling tuned to the heart of the ancient prayer form of Lectio Divina. Weekends are reserved for rest and for hiding His word in the hearts of those who love Him. Hosanna is designed to help you reflect on all aspects of your life in light of Jesus' call to live for the Kingdom of Heaven. It's at once gentle and challenging--a journey with one of Jesus' closest followers that will bring you into the presence of our Lord, from His birth to His resurrection.
Call Me Blessed explores the lives of 19 different women in the Bible! This book follows our traditional format of Scripture passages and reflections, with space to journal, while also weaving quotes from Pope Saint John Paul II's encyclical, On the Dignity and Vocation of Women, into each day's meditation. Together, these aspects create a powerful study on the genius of femininity, God's beautiful design for women.
A newly revised bestseller, Rooted in Hope is a 33-day Advent and Christmas study that extends from November 30 to January first. In a look at Scriptures that tell the stories of prominent biblical figures, this study echoes and expands upon the popular Advent tradition of a Jesse tree. For each day, you'll find Scripture, a devotional essay, pages for guided lectio divina, and space to organize your days. Journaling pages and useful planning pages feature clear and elegant design, exquisite hand-drawn illustrations, and gorgeous calligraphy. A handy companion for Advent and Christmas seasons, the book will become a treasured keepsake for the woman who uses it.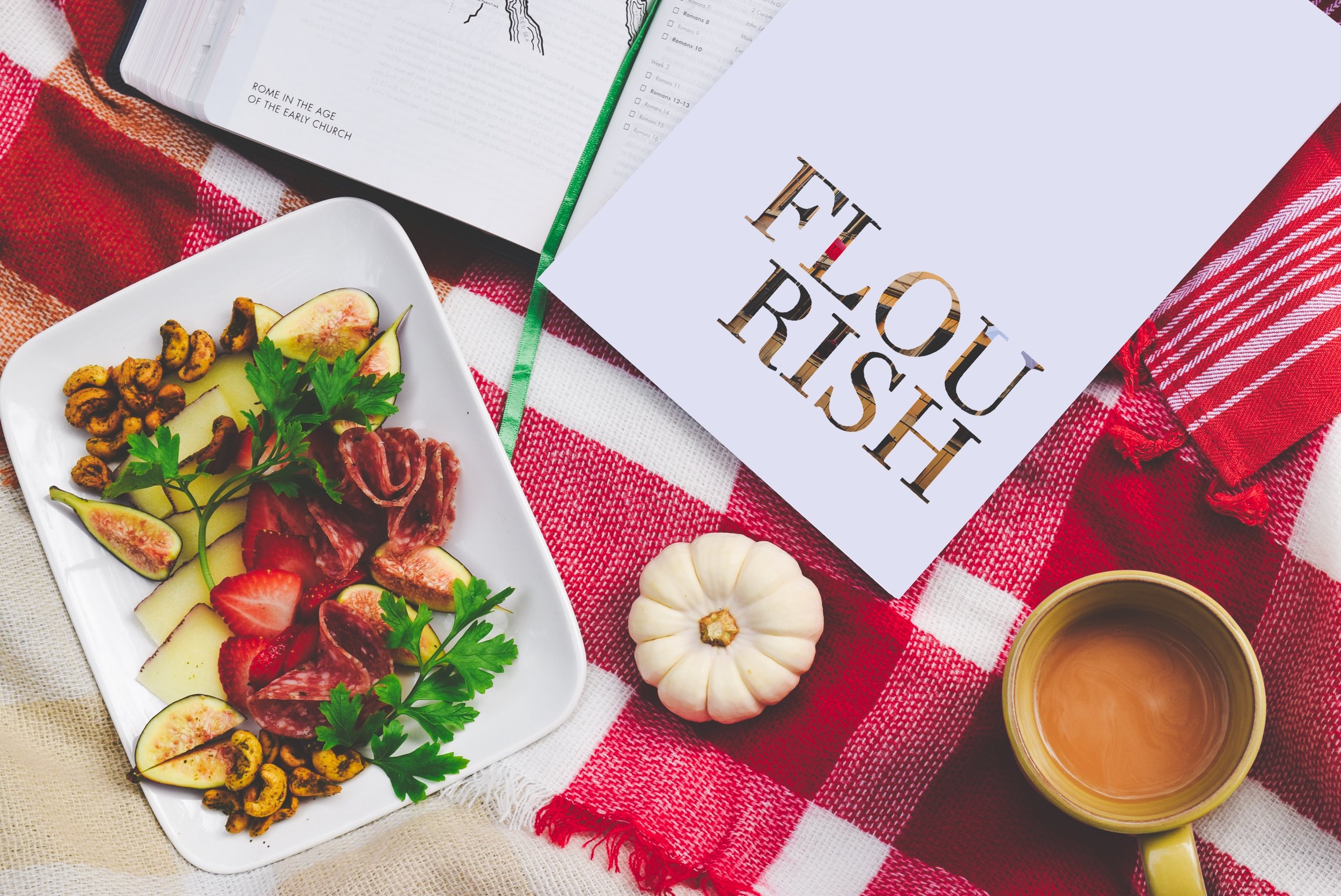 To the people of Rome, the cultural hub of the world at the time, St. Paul wrote the most thorough articulation of the gospel. For us, the book of Romans is a study of sin and guilt and loss and rescue. It is the essential gospel. An in-depth look at the entire book of Romans, this study provides inspiration and structure to dig deeply into St. Paul's guidebook for the early church--and for we who are the Church today. Scripture, art, journaling prompts and beautiful space to write, and even a few recipes enhance the reader's understanding of St. Paul's essential gospel letter.
Whether a woman is 19 or 49, friendship with other women can enrich our lives and it can make us weep. How do we find friends who are kind and true? By becoming those friends ourselves. This beautiful book invites you to explore what God has to say about lasting friendships. A journal with ample room for reflection and beautifully designed pages of scripture, this book brings you stories of faithful friendship and reflections on the challenges inherent in forming lifelong bonds that build women up. What if we understood that true friends are God's desire for us? What if we approached friendships with the confidence that God wants us to have friends and to be friends? This 4-week devotional journal is a gift to women everywhere. It's a volume they can study alone or they can share with friends. Beginning with the comfortable, truly good friendship we find in Jesus, we consider together the challenges and the triumphs of happy, holy friendships. We study scripture, we make plans to further friendships, and we count the blessings that come with life spent in the company of good friends.
This beautiful book is a thoughtful Scripture study of twenty key touchstones of Jesus' life. An intimate encounter with the rosary, this lovely volume integrates Bible study, journaling, and thoughtful daily action prompts. You will grow in your appreciation and understanding of this beautiful traditional devotion, while deepening your love for Jesus in the gospel. For each day, you'll find Scripture, a devotional essay, pages for Lectio Divina, gorgeous graphics to prompt your prayer, and ample journaling space. Clear and elegant design, hand-drawn illustrations, and lovely calligraphy make this book a treasured gift for the woman who uses it. A companion children's book invites families to study together. The journals are undated and suitable for any time of year.
is a Lenten devotional that includes daily Scripture passages as well as devotional essays, room to journal, and space to organize your time. There is a simple prompt for the ancient prayer form of Lectio Divina each day, and a separate page for the fifth stage, Actio, where the reader is encouraged to examine her conscience and offer forgiveness to herself and to others. Above All is designed to help you reflect on all aspects of your life, particularly those that you may have pushed to the back burner. It's filled with tools to help you discover which areas need greater care and tending, and is meant to inspire and motivate you to become your absolute truest self, so that come Easter, you can flourish as God intended. Readers who enjoyed "Put on Love" last year will find similar themes and several familiar essays in this revised and much-expanded edition. Classic essays are nestled among new and expanded design and brand new content, including ten additional essays and lots of gorgeous art. The journal is undated and suitable for Lent any year and adaptable to any time of year. Read more here
In Stories of Grace, you will find thirty-one days of Jesus' stories carefully collected for you. This is a study of the parables Jesus told, complete with tools to help you have ears to hear. Along the way, we've provided meditation essays, journaling prompts, space for your notes and drawings, beautiful calligraphy pages, and prayers we will pray with you. The journal is is undated and suitable for any time of year.
Consider the Lilies is a 7X10 softbound, matte cover Scripture study journal that is thoughtfully written and beautifully designed. Every day of this six week study provides Scripture to get you started and notes for further Bible reading. You will find a daily devotion, some thoughts to consider as journal, and a prayer prompt to dovetail with your reading. There are generous pages for writing and art journaling. Step by step, day by day, these words console and bring clarity to the hard days. The journal is undated and suitable for any time of year. Read more here.